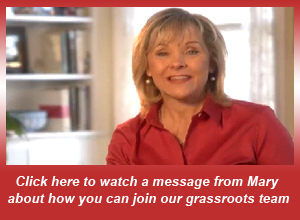 For too long, we have gone without an energetic leader working to create more jobs and a better Oklahoma. That's why we need Mary Fallin as our next governor.
For 20 years, Mary has worked to bring more and better jobs to our home state. As governor, she'll create the kind of business-friendly environment that will move this state forward, create greater prosperity and make Oklahoma a better place to work and raise a family.
That's why we're emailing you.
To ensure Mary Fallin is elected our governor, the campaign needs your help TODAY!